Breeding Saint Bernards
Breeding involves Art, Science and Total Devotion to the breed. Our breeding program is based primarily on Sanctuary Woods bloodlines, and we continue to try and breed correct type,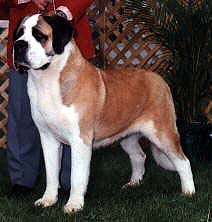 sweet-stable temperaments, intelligence as well as structural balance and functional correctness.
Producing Greatness is not a matter of luck and there are no shortcuts in the breeding programs of those who have made it to the top. The Great dogs are often related and are likely to beget more of the same. The Great dogs that win are not just pretty glamorous dogs. They are healthy and are built to perform the function for which they were bred. They aren't born by accident they are planned by responsible breeders with definite goals, as improving the breed.
As responsible breeders we embrace the belief that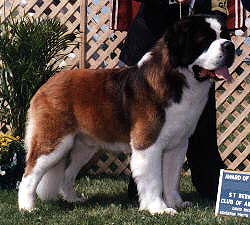 each new litter should represent an improvement over the last. We have bred our dogs with consideration for temperament, and conformation to the standard for the breed. Structure, Balance, and Movement are very important to us. We believe that sounder dogs live longer, more productive lives.
Because temperaments are hereditary we breed only sweet-tempered dogs and raise our puppies with tender loving care. Slaton's Saints also gives careful consideration to health issues, genetic concerns, soundness and general appearance.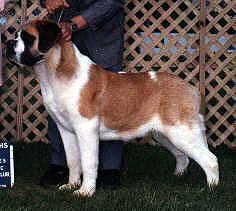 When we place a dog with the new owner, our first concern is that the dog will be properly cared for with nutritious food, clean water, access to shade at all times. Veterinarian care, including immunizations, along with personal attention and training. We as breeders are always available to answer questions and provide information to the new owners. We feel responsible for every puppy that we cause to come to life and should an owner of one of our dogs no longer wish to or be able to keep it, we require that the owner agree to return the dog to us.
---