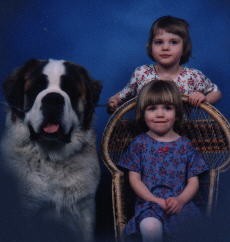 A True Saint and Real Hero
There is a young couple with two small children who own one of our dogs.
They live in Canton, Ohio in a rough neighborhood. The dog, "Trouble"
has been shown some and has 7 points with both majors toward his
Championship. He is now almost 4 years old. One night, about two years ago
the husband was at work. The wife heard a lady screaming outside her house
in the middle of the street. There were 3 men attacking the young woman and
she was yelling, "they are beating me and raping me," then there was 2 gun
shots heard. Being afraid for her own safety as well as her two little
girls, the young mother dialed 911 right away. Then she went to the back
door to let her dog in the house. Before that could happen, her dog jumped
their fence and ran to the aid of the woman, who was screaming in the street.
As soon as the attackers saw the dog, they fled. The dog was still in the
middle of the street licking the injured woman's face when the police
arrived. The next day in the newspaper it was printed that an unidentified
hero frightened the assailants away. The woman was in the hospital for
several weeks. When she got out she came to visit her hero so she could
thank him in person. If not for the St. Bernard undoubtedly the woman would
have been dead. That night "Slaton's Trouble A Bruin" was truly her Saint,
and it makes our hearts proud here at Slaton's Saints to say that we are his
breeders.
---
Annoucements | About Our Kennel | About Joe Wolf | Our Breeding Principles
Our Past Champions | Our Females | Stud Dogs | Puppies
Questionaire | A Saintly Hero | Grooming Table | Links to other sites