Based primarily on Sanctuary Woods Bloodlines, Slaton Saints continues to breed for correct type, sweet-stable temperaments, intelligence, as well as structural balance & functional correctness.
Slaton Saints is located in the heart of the country....Greenwich, Ohio which is 52 miles southwest of Hopkins Airport in Cleveland, or 12 miles north of Ashland on Highway 60. Our kennels are on a fenced acre of ground with lots of shade trees. We have about 6 adults and a variable number of juveniles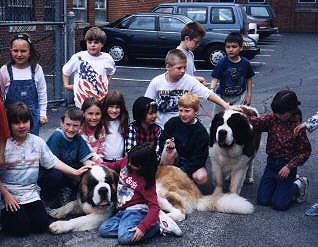 and puppies at our kennel at any given time. Our dogs have the typical Saintly temperament to get along well with other animals.
Shirley & Joe Wolf are the owners of Slaton's Saints. Shirley works only part-time for Leslie A. (Cook) Myers DVM at Hunting Ridge Animal Hospital, in Sharon Center. Joe is a Master Technician for Pat O'Brian Chevrolet in Medina.
This is the famous St. Bernard Dog.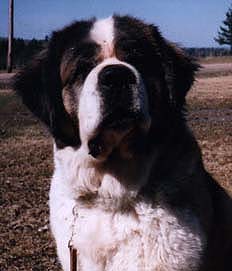 We know of no breed produced by any other dog lover which cost so much to breed and raise, yet our exclusive breeding program produces a temperament, movement and dependability you will find in no other breed at any price.
St. Bernards are wonderful dogs that offer good temperament, beauty and devotion to their owners. They have a high level of trainability and intelligence along with their love of carting work, and weight pulling which offers owners many ways to interact with the Saints. St. Bernards are great kids dogs, the description of "Courage without Ferocity" is an appropriate one.
We have bred our dogs with consideration for temperament, health and conformation to the standard for the breed. When we place a dog with the new owner our first concern is that the dog will be properly cared for with nutritious food, clean water, access to shade at all times, veterinarian care including immunizations, along with personal attention and training.
Because temperaments are hereditary, Slaton Saints breeds only sweet-tempered dogs and raise our puppies with tender loving care.
We feel responsible for every puppy that we cause to come to life and should an owner of one of our dogs no longer wish to or be able to keep it, we require that the new owner agree to return the dog to us.
Pricing & Guarantee's
Our puppies are priced as to their quality and potential. This is determined by the breeding stock behind them; the temperament, health, longevity, and performance in the conformation obedience and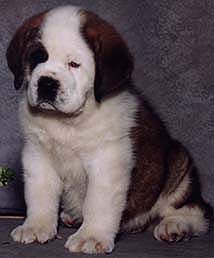 working areas. We want every puppy or adult we place to be what the new owner expects. Puppies are evaluated between 7 & 8 weeks and are based on the total quality of the puppy, not on markings or sex.
Pet puppies are sold on limited registration only, starting at $1,200.00 to $1,800.00 with an average price of $1,500.00. Show prospects are priced from $1,500.00 on a co-ownership to $2,000.00 outright ownership. All our puppies are healthy and guaranteed free of any genetic disorder which makes them unsuitable for the purpose they were purchased. For a full refund a puppy must be examined by a Veterinarian within 48 hours and returned to us within 72 hours.
All puppies leave our facility with:
* Two sets of vaccinations (Distemper, Hepatitis, Leptospirosis, Parainfluenza, Parvovirus & Coronavirus)
* Wormed twice
* Record of vaccinations & wormings
* Four-generation pedigree
* A.K.C. blue slip (if payment in full is made by cash or certified check) In addition consult your veterinarian regarding heartworm protection programs in your area.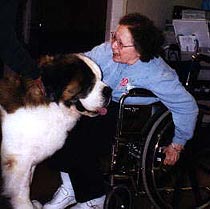 Shipping
The buyer pays air shipping costs from Cleveland Airport. A crate may be purchased by the owners or if you do not intend to use the crate again, you may wish to ship the puppy in a Slaton's Saints crate and return it prepaid by the Postal Service or UPS within 2 weeks of receipt of the puppy.
Rearing Suggestions
Instead of forcing the growth of a puppy with puppy food, we recommend feeding a good quality adult food by the time the puppy is about 12 weeks of age. DO NOT over supplement, or keep your puppy overweight. A balanced multi vitamin daily along with 250 mg of vitamin C Twice a day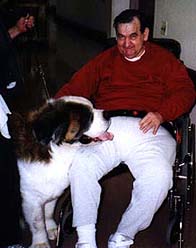 is plenty. As dogs manufacture their own vitamin C to help absorb the nutrition from their food....but in a fast growing breed, do they really manufacture enough? We don't know either, but it doesn't hurt to give extra especially during their growing years. Keep your puppy on the lean side, but not skinny. An overweight puppy raised on a hard, slick surface where he is unable to get proper traction has a greater chance to develop hip dysplasia, along with other structural problems. A puppy raised indoors simply fails to get enough exercise to develop sound muscles.
Early Training
Dogs in the wild are trained by their mothers from birth until they are 6 months of age and then they are on their own. So it is never to early to start training your new puppy. Although all our dogs have gentle dispositions, any dog can become overly aggressive if improperly reared. Misbehavior must be corrected immediately!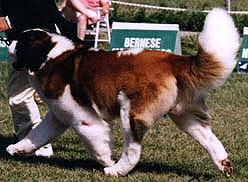 Never allow or encourage growling and overly protective behavior. We recommend obedience school and a lot of outside socialization from early on. Dog's are of a packing nature, so just remember YOU must be the top dog. Just remember the effort you put into your puppy for the first year of it's life you will reap for the rest of its life.
Structure, balance and movement are very important to us. We believe that sounder dogs live longer, more productive lives.