Grooming Aprons
Waterproof vinyl aprons to keep you dry while bathing and grooming your dog.
The vinyl aprons come in a variety of colors and are $30.00 each plus shipping.

---
Breeders Edge Grooming Table
GROOM YOUR DOG THE EASY WAY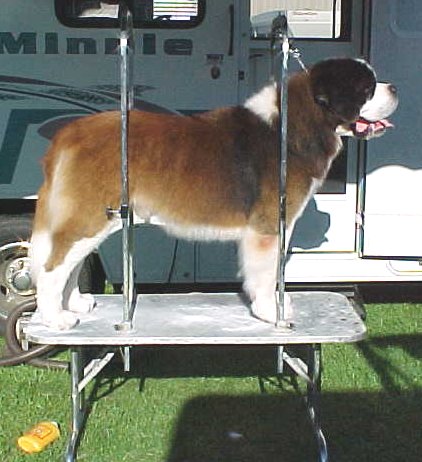 Top quality table with 2 U-shaped chrome arms that won't rust and
slide bar to keep your dog standing in place.
Complete set up............$350.00 + shipping.
Arms & accessories are also sold separately.
U-shaped chrome arms: $50.00 each
Slide bar: $40.00
Clamps for arms: $25.00 each
(prices do not include shipping)
Exclusively distributed for Breeders Edge by:
Joe & Shirley Wolf
362 State Route 60
Greenwich, Ohio 44837
(419) 929-0465
SlatonSts@aol.com
---
Annoucements | About Our Kennel | About Joe Wolf | Our Breeding Principles
Our Past Champions | Our Females | Stud Dogs | Puppies
Questionaire | A Saintly Hero | Grooming Table | Links to other sites